ComicStripFan.Com
Buzz the Fly, by Steve Ward
This was a cool gag strip by Steve Ward about a fly named Buzz and his friends. Yes there was a bit of toilet humor (the strip was about flies, after all), but there were a lot of other good clean fun gags as well. The former website, www.buzzthefly.com, now serves solely as a memorial to Steve Ward. Sadly, Steve passed away on September 21, 2003, due to heart failure. He was a very pleasant person, and even created a daily gag especially for me.
Steve's good friend and host of the Buzz the Fly website, Mr. Monte Ohrt, contacted me and shared with me some wonderful information about Steve and his life. Here's an excerpt of what he shared.
"Steve was a denizen of Lincoln Nebraska. About two years before his passing he had sold everything he owned and traveled to the sandy beaches of California to live a new life. He still sent us his fly strips from there, but he was there less than a year before coming back to Lincoln. He then moved to Omaha and died a short while after. One of the nicest guys you'd ever meet, he was a character."
Check out some great prints and original art of Buzz the Fly below.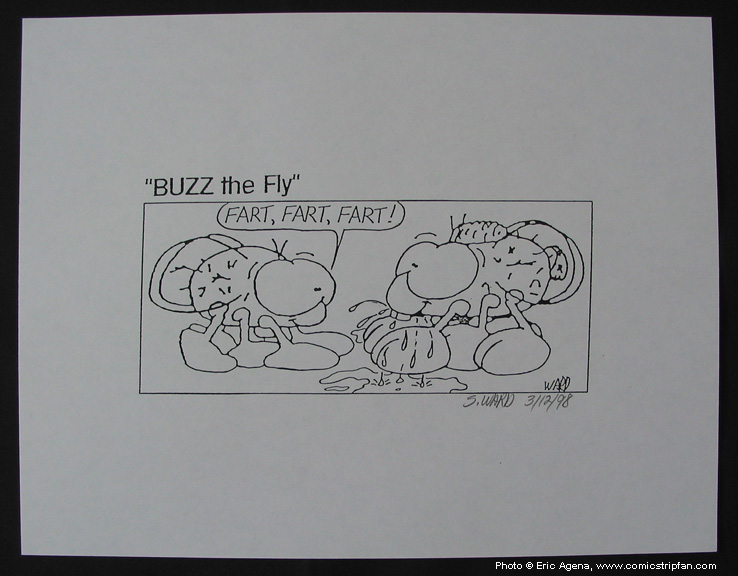 Signed Buzz the Fly print by Steve Ward, date of the strip unknown. Interesting gag (remember, these characters are flies, people!).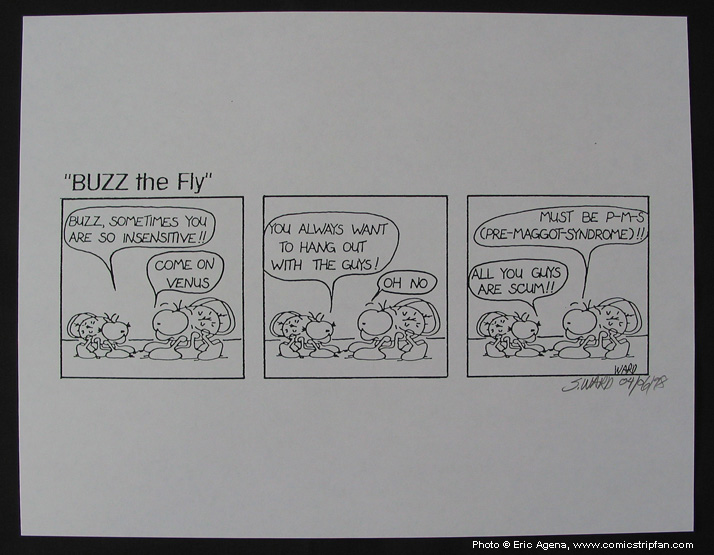 Signed Buzz the Fly print by Steve Ward, date of the strip unknown. Personally, I found this one very funny.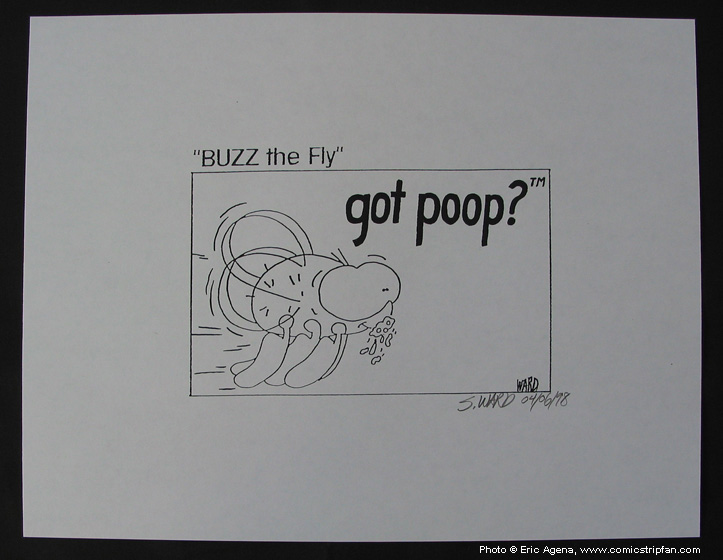 Signed Buzz the Fly print by Steve Ward, date of the strip unknown. I liked this one as well; it was a great play on the "got milk?" adds that were so popular at the time.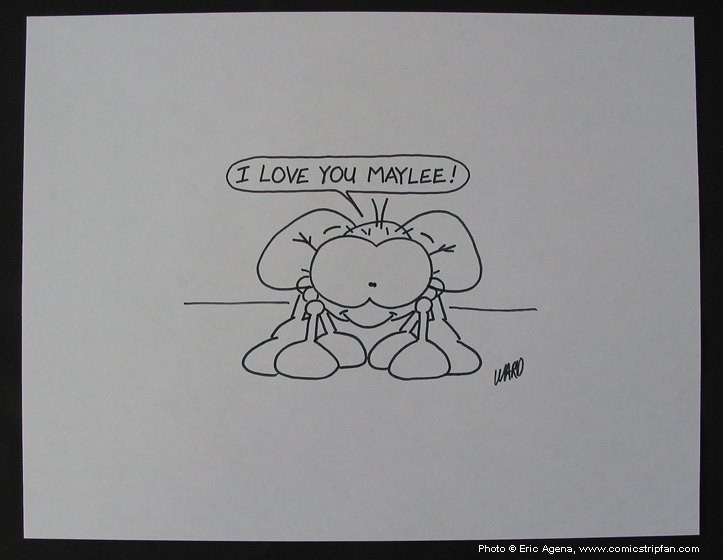 An awesome specialty piece of Buzz done for my sister and signed by Steve.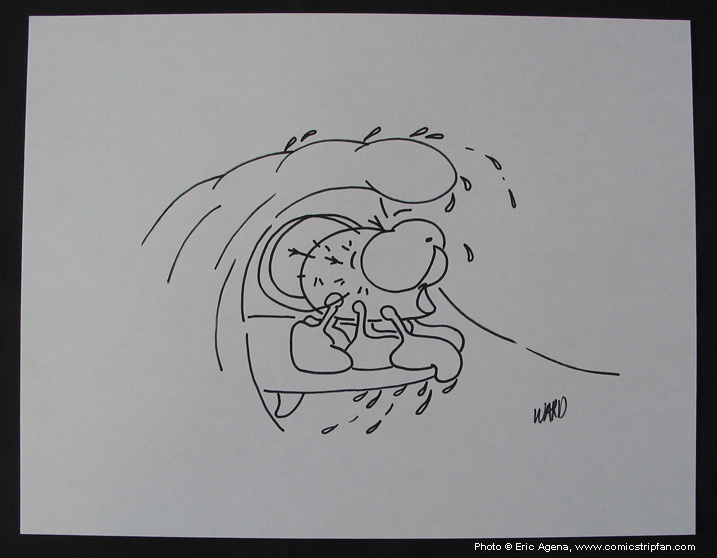 Original Buzz the Fly daily panel by Steve Ward, April 3, 1998. He created this daily after I requested some art, and sent me the original. The title of this piece was "Cowabuzzga!" Several of the dailies he did were a play on words with Buzz' name.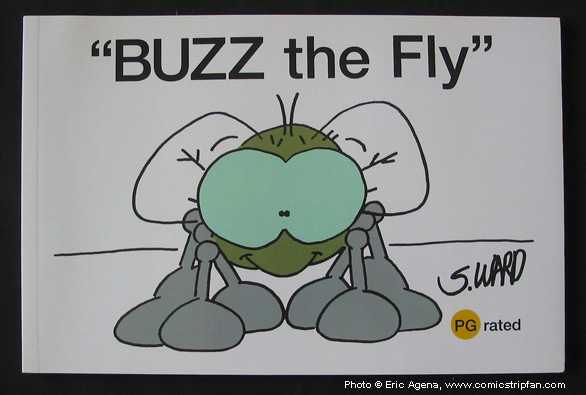 Front cover of Buzz the Fly paperback book. In the late 1990's, Steve had emailed me to let me know that he was going to put out a Buzz the Fly book soon, but we eventually lost touch. The next thing I knew, he had passed away. After a bit of searching, I was able to locate a copy of the book.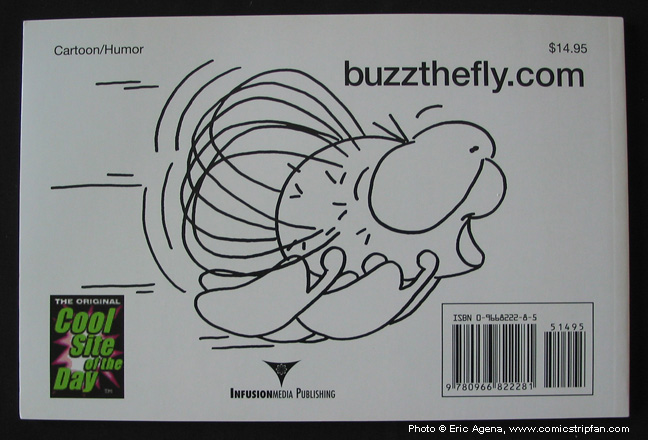 Back cover of Buzz the Fly paperback.
Thanks to the kindness of Mr. Monte Ohrt, the entire Buzz the Fly archives are available for viewing here at ComicStripFan.com! To browse the archives, click here. (Be warned, a lot of the humor is adult-oriented and at times very controversial and/or vulgar. The views expressed in the cartoons are not those of ComicStripFan.com. All strips are preserved here for viewing for archival purposes only, and thus have not been censored nor edited for content. Although there are a few that I disagree with, I think it's important to keep the entire archive intact and thus I have displayed every panel that Steve created.)
The Buzz the Fly website now serves as a permanent memorial to Steve. You can visit the site by clicking the link below.
All art is © by their respective © holders. ComicStripFan.com and entire site © Eric Agena. All Rights Reserved. Unauthorized reproduction, use or publishing in part or in full is prohibited.